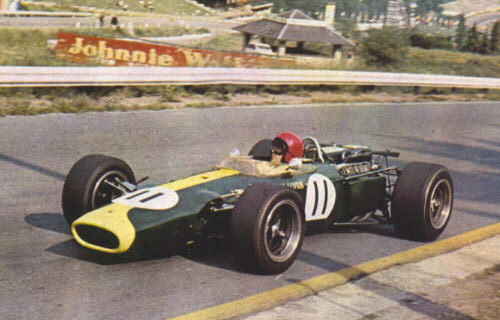 Peter Arundell in the Lotus 16 cylinder BRM (credit: Autosport)
Grand Prix
when Scott Stoddard (played by
Brian Bedford
) after a long recovery from a ferocious crash, puts his crutches down and climbs slowly and painfully into his racing car. That would have to be Peter Arundel,
Jim Clark's
Lotus F-1 team mate.
I was at
Brands Hatch
, going to racing driver school in the days when the instructors took you around the track in Lotus Elans. There was a buzz among my fellow wannabe racers, "wow, that's Peter Arundel. I didn't know he could walk."
He could barely walk. He had crashed in a Formula 2 Race at Reims the year before, t-boned by Richie Ginther, smashing into a dirt bank and thrown out of his car. He was at the very beginning of what looked like a brilliant career in Formula One. But it took Arundell over a year to recover from a broken arm, thigh and collar bone, and a severe concussion. In the meantime he was making ends meet by teaching mickey mouse drivers like me.
He asked me to drive the Lotus around the race track, "take your time," he said, "I just want to see how you drive, not how fast you are." So I did a couple of laps and he said, "would it be alright if I took the wheel for a bit?"
I had never been in a car with a racing driver before. Let alone a Formula One driver who had beaten Jim Clark. The Lotus was transformed from a decent little car into a low flying object, engine screaming and tires squealing. At some point the car became still and the race track came to us, fluid, rushing, as if we were sitting still and the landscape was rising and falling, tilting. For a while I forgot to breathe.
I got back behind the wheel, and kindly, patiently Arundell showed me the braking points, where to turn in and how to take the car to its limits. Or rather, my limits. How to get on the brake pedal in a hurry, really use the brakes and lift off smoothly as we turned it. He was patient, insightful. From time to time, I thought I might be a racing driver. (If you are not seriously delusional you will never be a racing driver.)
Arundell
went back to Lotus in 1966, but he never made it back to the front of the grid. Part of it seemed to be that he was driving the clumsy, heavy and complex BRM H-16. While Clark was driving the lighter, faster
Cosworth V-8.
But then
Jimmy Clark
qualified the H16 third on the grid at Monza while Peter was 13th in the Cosworth. Clark won Watkins Glen in the BRM and Arundell finished last in the Cosworth. Chapman signed Graham Hill to partner Clark in 1967 and Arundell moved the the US to run a software company.